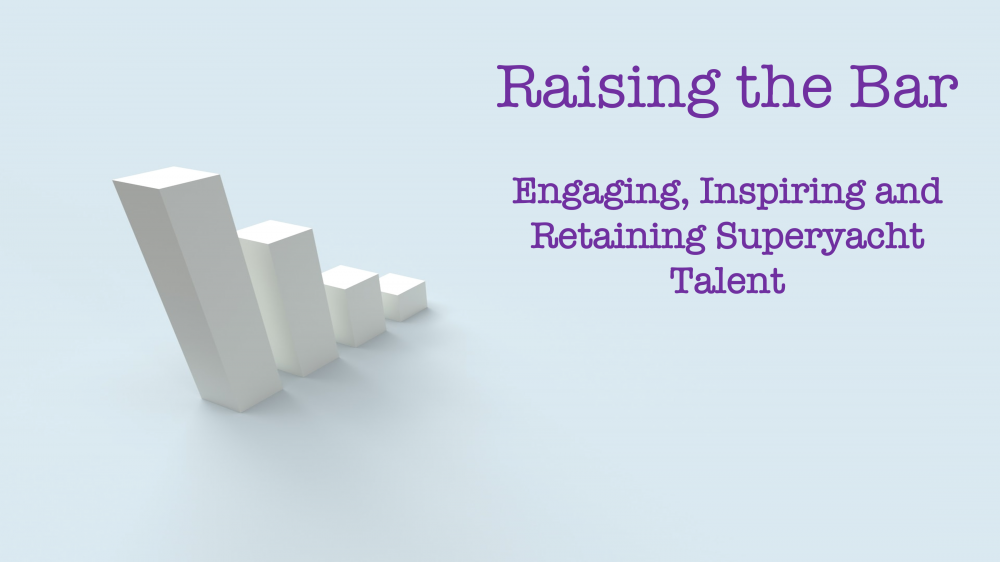 Raising the Bar - Engaging, Inspiring and Retaining Superyacht Talent
The Islander – April 2023
< Back Raising the Bar consists of a diverse group of Superyacht industry professionals
Raising the Bar consists of a diverse group of Superyacht industry professionals who came together in February 2021 and formed a 'Thinktank,' with the purpose of identifying issues and putting forward suggestions of ways to improve our industry. Over the course of the past two years, the members have given freely of their time and expertise, and continue to do so. Some of the ideas they have put forward include the creation of industry career maps (soon to be hosted at www.SuperyachtIndustryCareers.com), to help manage crew expectations and rates of progression. In addition, they have researched into why crew suddenly leave positions, as well as what the true cost of crew turnover is.
Last month two of our 'Raising the Bar' Thinktank members, Fiona Maureso of Northrop & Johnson and Chloé Collet of YPI Crew, presented some of our findings during Quaynote's Improving Yacht Crew Retention conference in Nice. Over the course of the next few months we will be sharing this data both here and through various social media outlets. The more informed we are as an industry, the better decisions we can make and encourage owners, owner's representatives and other key stakeholders to do so too. The nature of our industry is changing. As it grows and matures and we welcome the next generation of crew into the fold, the industry too will need to change, supporting crew in new and different ways, as well as better managing guest and crew expectations.
Crew turnover overall within the industry is high and remains stubbornly so. In Impact Crew's 2015 survey it revealed that 78% and 69% of Junior Interior and Deck Crew respectively, left within 12 months of taking on a new position. Average shoreside staff turnover rates are between 6 and 13 percent. Yes, Amazon does beat them all at 150%, but it costs Amazon a quarter of their profits.
The cost of replacing crew and staff runs far higher than the tangible expenses of recruitment, travel expenses, severance pay, etc. There's a raft of other costs that fly under the radar. What about the 'little' mistakes a crew member makes because they were unfamiliar with a piece of equipment or product, or the extra time they take to complete tasks as they become familiar with the intricacies of that particular yacht. Are additional day workers taken on, or do the expenses ramp up as they 'update' the stores to their standard? Not to mention the time they 'steel' from more senior crew (aka time expensive) with their questions.
From the surveys undertaken by the members of Raising the Bar, it is estimated (and time on board and day workers were not factored in), that on average it costs about € 60,000 to replace a Captain and even junior crew are around the € 15,000 mark. If you lose three junior interior crew in one year, that's about the same or less, as employing a fourth person. Now that 3:1 rotation / structured leave, doesn't sound so expensive after all, if it prevents burnout and increases longevity. It's not going to work for every yacht, but it might be worth considering for some.
The industry attracts some amazing individuals, but we also lose them for a variety of reasons. Not just on board as they surf from one yacht to another, but from the industry altogether when it's time to step ashore. Retaining more ex-crew within this unique industry will be hugely beneficial, with the wealth of knowledge, experience and understanding they can bring. By appreciating and addressing the reasons why, finding a range of solutions and then spreading the word, we will hopefully fulfil our aspiration of Raising the Bar – Engaging, Inspiring & Retaining Superyacht Talent.
There is still more work to be done. If you would like to be a part of this journey, please join our next online meeting on June 6th 2023, contact Karen Passman to reserve your place. karen@impactcrew.com
A big thank you to our Thinktank members. None of this would have been possible without you!
Raising the Bar - Thinktank members
Bluewater, Burgess, Camper & Nicholsons, Fraser Yachts, Hill Robinson, IAMI, Impact Crew, Isle of Man Ship Registry, Italian Yacht Masters, JPMA, Life After Yachting, MHG Insurance, MYBA, Northrop & Johnson, Ocean Independence, Purser Trainer, Reardon Yacht Consulting, The OM, Viking Recruitment, Watermark Yacht Management, Wilson Halligan, Yachtzoo, YPI Crew.
In addition there are a number of independent Consultants and Captains of varying sized yachts that are a part of the Thinktank. Thank you to you all!