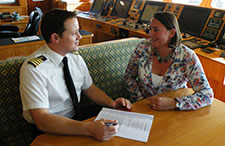 Interviewing Crew
The Islander – May 2015
< Back "To do a really good interview, you have to be truly interested in the person" Daisy Fuentes
Interviewing is an art and a skill and one which many of us have to practice to become effective at.
Senior crew often find themselves in the position where they need to interview crew. Below are some tips to help you get the crew that are right for you and the yacht, whether you are using crew agent or not.
Know what you are looking for - Sounds easier than it is!
What skills & experience are you looking for?
What about their attitude and approach?

This can be more important that certain skills

Which skills could you teach the right person?

Someone with the right attitude is easy to teach and will be motivated by the opportunity to develop

What about their motivation and how they like to work?
Prepare a list of questions that will help you check how well each candidate matches your requirements
Create a shortlist of between 3-5 potential candidates
Preparation
Read their CV

Prepare any additional questions

Is there anything you want to check or test during the interview?
Interviewing
Set expectations

Put them at their ease. Small talk and let them know the format of the interview
Explain more about the role and the style of yacht you run

Ask open questions

In order to gather as much information from them as possible you need to do some great listening. You've prepared many of your questions, now sit back and listen!
Ask further probing questions to gain more insight

Ask for examples

Rather than asking them how good they are at something, ask them how they would approach a certain task eg. Varnishing

Two way process

You are being interviewed too, so give them a chance to ask questions too

Follow-up

Let them know when you plan to make a decision and what the next steps will be
After the interview
Make notes and an initial impartial assessment based on what you are looking for
Only make your decision once you have interviewed your entire shortlist